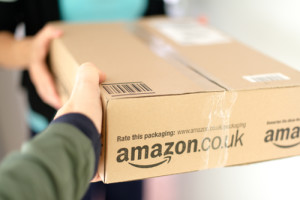 Not long ago, musicians were the only people who worked a "gig." Today, there are millions of Americans working gigs instead of having a full-time job.
It started with online marketplaces like Elance and Odesk, where workers could choose short-term work projects that matched their skills. Then along came Etsy, where millions of "makers" create hand-crafted clothing, jewelry and art. Airbnb, Vacation Rentals By Owner, and other online lodging marketplaces are giving hotels and motels some serious competition by helping individuals around the world provide a place for guests to stay for a night or several months.
Now, Amazon has announced a new, gig-style, delivery service that has just opened in Seattle, and will expand soon to other large cities, like Dallas and Boston, and eventually to the entire country. It's likely the program will be offered in the many other countries where Amazon sells goods as well.
Amazon is offering to pay it's driver $18 to $24 an hour to deliver packages to their "Prime" customers. The program is called Amazon Flex, and requires a few essentials of it's drivers:
Own a car or other vehicle (perhaps even a bike for crowded city streets!)
Be over 21 years of age
Have a valid driver's license for your state
Pass a background check
Own an Android smartphone
Amazon will give approved drivers a "delivery app" for their smart phone. Drivers can choose to work in 2-hour blocks of time, from as short as 2 hours to as long as 12 hours. This is perfect for part-timers. Let's say you need to pick up your kids at school every day at 2:30 p.m. No problem, as Amazon Flex allows you to choose 2-hour blocks of time to fit your schedule.
Need to earn a lot of money fast? Again, no problem. Just sign up for a long shift or more days per week until you meet your financial goal.
Here's how it works: When you start your shift, you pick up the packages to be delivered at a central location in your area. Then you deliver those packages in nearby areas. The longer your shift, the larger the area you cover.
Up until now, starting your own errand service business could be risky at first, when you're building the business, and income can go up and down. But by using Amazon Flex for a portion of your working hours, you can have a more predictable income right off the bat.
It's important to remember that your income as an independent local errand runner will be considerable higher – about $30 an hour is typical – for delivery jobs you schedule and complete on your own. So think of Amazon Flex as a "backstop" income source that can give you some income security as your build your own errand service business.
I'll post another article soon to keep you posted about the Flex program. You can also do an internet search for "amazon flex" to learn the latest available information, especially about which cities are in the program.